Reviewed for The Champion July 2019
DOING JUSTICE: A PROSECUTOR'S THOUGHTS ON CRIME, PUNISHMENT, AND THE RULE OF LAW
By Preet Bharara
Knopf (2019)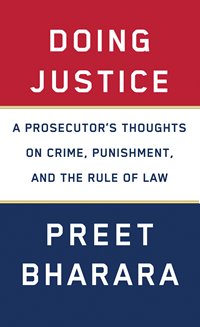 What can defense lawyers say about the perfect prosecutor?
Preet Bharara placed his stamp on the Southern District of New York — known simply as "the Office" in New York and the most desirable place in the world for a prosecutor to work — for the duration of the Obama administration. In his new book, Doing Justice, he is by turns funny, smart, thoughtful, self-effacing, and self-critical. If only all prosecutors spent as much time on each case, with as much basic goodwill, honesty and humanity, the world would surely be a better place. Bharara never shied away from making a headline, but he also was not afraid of criticism.
One of the most telling episodes is in a chapter titled Bollywood. Bharara (who was born in India and came to the United States as an infant) was addressing a banquet for Indian-American businessmen in the midst of the prosecution of Raj Rajaratnam, the Sri Lanka-born hedge fund magnate convicted of insider trading. He had recently been pilloried as a race-traitor in New York's combative ethnic press. He began his address with a joke to lower the temperature: "I have something important to say to all of you: you have the right to remain silent." The crowd loved it.
Bharara strives to be race-neutral, perhaps to a fault given our nation's past and the structural inequities in our criminal justice system. He is also a bit wide-eyed about the virtues of the office he led. SDNY prosecutors rarely suffer from self-doubt. As many New York defense lawyers would attest, the Office often overcharges and almost always holds back critical information about a case until forced to turn it over. Full disclosure: the SDNY has been a frequent adversary of mine even as my daughter played in a high school chamber music group with Bharara's daughter, who appears several times in the book, grounding and humanizing the hardworking prosecutor.
Bharara gives deep thought to each charging decision, often assembling a group of supervisors around the coffee table in his office to hash out a difficult question. He advocates having prosecutors fully argue the case from the defense point of view. He reveals that his well-funded office hires expensive jury consultants, but the unseemliness of the expenditure is not entirely lost on him.
In the law enforcement world, Bharara is no doubt a relative progressive: some of the battles described in the book are fought against prison guards, corrupt police (including the notorious "Cannibal Cop," who was acquitted), and other instrumentalities of our outsized system of punishment. But in the end, he is a prosecutor's prosecutor, empathizing with victims and defendants alike, glad-handing investigators — all while showing little hesitation to impose high prison sentences when he felt they fit the crimes charged.
Though respectful of the defense function, Bharara is dismissive of defense lawyers. In a lopsided example, he describes how the steel trap memory of an SDNY investigator led to an exoneration. At the same time, he ignores the essential role that defense lawyers play in freeing the innocent and protecting against government overreach, going so far as to call out by name a storied woman defense attorney for alleged "slut shaming" of a sex trafficking victim. Doing Justice does not address Bharara's most troubling case, the "Bronx 120" roundup of fledgling African American and Latino alleged gang members who, in earlier times, would never have faced federal charges for selling drugs on the street and now face absurdly high federal mandatory minimums and double punishment under RICO.
Doing Justice is organized in a way that makes it particularly accessible to criminal practitioners: by the phases of a prosecution. So we start with a section on the inquiry, move on to accusation and then to judgment, and end — more often than not triumphantly — with punishment. Bharara includes a great chapter on walking away, which happens when there is not enough evidence to prove a crime beyond a reasonable doubt. He intersperses descriptions of his work at the Office with general thoughts and observations about criminal justice and, of course, many war stories. He writes about cases he tried himself, but also about ones he supervised from on high or had nothing to do with, such as the Office's courageous pursuit of Michael Cohen after Bharara was fired by Donald Trump.
The book is a product of our present historical moment. Bharara presents himself as the anti-Trump: not political, not impulsive, never motivated by personal gain. He is appalled at Trump's pardon of Dinesh D'Souza, a bilious conservative commentator convicted of campaign finance violations who played the "self-hating Indian" race card in criticizing Bharara's prosecution.
But Bharara himself presents a convincing case — even to this most skeptical of audiences — that he is above all that. As a prosecutor, he sees the world in terms of good guys and bad guys. But that model fits the facts only in a small minority of cases — which happen to be the ones with which Bharara, as head of the world's most powerful prosecutor's office, was most concerned. He sees the need for structural changes, like the need to close Rikers Island. But in the end, this is a story of eight years of tactical combat, eight years ridding the world of corrupt politicians, villainous prison guards, and insider traders, and eight years of having the luxury to follow one's conscience and bring the right cases at the right time against the right people.
ABOUT THE REVIEWER
Zachary Margulis-Ohnuma (NACDL Life Member) practices criminal law in New York City.
Republished with the permission of the National Association of Criminal Defense Lawyers